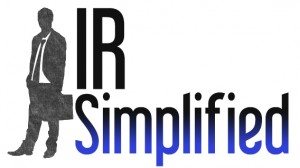 In this episode of the IR Simplified podcast, I give a brief overview of what should be included in induction programs for new employees.
I also share some thoughts on why I think unions shouldn't be allowed to take part in them.
Remember to check out Industrial Relations Today, and add your name to the mailing list to be one of the first to know what's happening and when.
The coming webinars that will be hosted by IR Simplified can be found here.
Remember to check out the Understanding Industrial Relations course, or the new one, Mastering Industrial Relations.
And finally, don't be the only one who hasn't subscribed to the IR Simplified newsletter. You can do that by heading here.
[iframe style="border:none" src="http://html5-player.libsyn.com/embed/episode/id/3688004/height/100/width/480/thumbnail/no/theme/legacy" height="100″ width="480″ scrolling="no" allowfullscreen webkitallowfullscreen mozallowfullscreen oallowfullscreen msallowfullscreen]
Check out this episode!