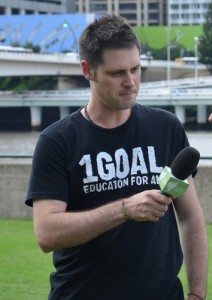 Social media and company policy.
Two of the things that are often seen to be in conflict with each other, and have been the subject of an unknown number of discussions, and unfair dismissal complaints.
These have both come to national attention lately with the comments and subsequent termination of former SBS Football Reporter/Presenter, Scott McIntyre.
While I am not going to repost or repeat his tweet here, SBS found the numerous tweets to be inappropriate and in breach of both their Code of Conduct, and Social Media Policy.
What makes this example interesting is that every backyard lawyer is coming out of the woodwork saying SBS is silencing free speech. Actually, there are even lawyers and barristers saying the same thing.
Social Media Policy Governs Employee Comments
Despite what everyone is saying, Mr McIntyre wasn't sacked for upsetting the ANZAC tradition, his employment was terminated because he breached company policy.
As an employee of SBS, he would have been made aware of certain standards that his employer expected him to maintain.  Undoubtedly, one of them would have been about making comments on social media about things that weren't SBS policy.
In fact, the managing director, Micheal Ebied, sent out the following tweet.
Comments from @mcintinhos are his own, disrespectful and not at all the views of @SBS. We remember and commemorate our ANZACs.

— Michael Ebeid (@michaelebeid) April 25, 2015
Is It A Suppression Of Free Speech?
Now, this is a tricky question. In short, the answer is no. Mr McIntyre, whilst employed by and representing SBS isn't in a position to say things that might damage that brand. He would have been made aware of this either when he first started with them, or when the policy was changed/put in place. Up until a few days ago, Mr McIntyre complied with, making the conscious decision that a regular pay cheque was more important than having a rant about something. How this could be a suppression of free speech is beyond me.
Was It Adverse Action
Making things worse, there are those who are claiming that what Mr McIntyre did was express a political opinion, and therefore protected under the Fair Work Act. 
@BarnsGreg @theboltreport10 @timwilsoncomau there has been protection to employees expressing political opinion snc 1994. Sec 351 FW Act — Larissa Andelman (@Larissaandelman) April 27, 2015
Once again this isn't entirely true.
As I has been mentioned above, Mr McIntyre would have known exactly what he could and couldn't do, with regards to comments on social media.
Was It An Unfair Dismissal?
Every day he turned up to work, and accepted a pay check was another day that he agreed with the conditions of his employment, ie Code of Conduct, and company policies.
He published three tweets that could be viewed as offensive to some, and he was most probably asked to remove them. Something that he has yet to do.
Breaching company policy, and Code of Conduct, and failing to follow a lawful direction could be argued amounts to gross misconduct.
The result being that he was dismissed instantly.
Was this dismissal harsh, unjust or unreasonable?
Once again, in light of the deliberate actions that he has taken, I would say no.
Unfortunately, the chances of this being played out in the Fair Work Commission are very slim as most unfair dismissal applications are settled during the conciliation stage.
Are There Lesson's To Be LEarnt?
Both employers and employees can learn a lesson or two from this.
Employers should realise the benefit of having current and well written policy and procedure documents regarding staff use of social media, especially when the company is easily identifiable.
Employees should understand that if you represent your employer on social media, that any comments that are in conflict with their policies, or likely to cause them negative publicity may impact your employment.
The list of people who have had their employment negatively impacted because of comments made on social media is growing all the time.
The next time you make a comment on social media, not only would I be thinking twice, I walking away from the keyboard and taking a few deep breaths before you press send.