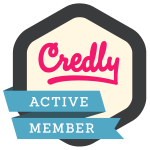 Increase Your Industrial Relations Knowledge And Earn A Badge Too!
In days gone by, if you did an industrial relations training 'course' you got a 'certificate of participation' for your trouble, and that was it.
If you wanted to do a refresher or update your skills, you had to pay for the course all over again.
And there was no way to verify that the course you were about to enroll in was actually worth it.
With all this in mind, IR Simplified has created a new range of industrial relations training courses.
Our courses:
Give you a lifetime education.
Take the course as many times as you want, and as often as you want. In fact, we encourage you to do it at least once a year.
Shareable and verifiable badges.
On completion of the course, you will be issued with an "Open Badge" which you can share on social media or your own website. The badge will contain verifiable information that the badge is issued to you via Credly.com, the criteria for assessment, an issue and expiry date.
Constantly updated.
Regardless of the course you enroll in, you can be assured that it will contain current and relevant information. Courses will be revised at a minimum of twice a year.
Our Courses

This course is aimed at those who are new to industrial relations such as a business owner or newly promoted manager.
Proving an overview of the act, the course covers the essential areas of: National Employment Standards; Modern Awards; Record Keeping; Terminations; and more
---

This course will give you the knowledge on how to minimise the chance of an unfair dismissal application being lodged.
Participants will also learn how to respond to an unfair dismissal application, participating in the conciliation process, and preparing for a hearing.
---

The workplace investigations course gives the participant an understanding of workplace investigations.
The course will go through the process of deciding which complaints to investigate, who should do the investigation, starting the investigation, then through to the end of the investigation and executive summary.
---

The course will give the participants the knowledge on how to plan, draft, negotiate and then lodge an enterprise agreement with the Fair Work Commission.
The course will also cover with can and cannot be included in an agreement, and how to prevent protected industrial action from happening.
---

This course will help the participant to understand the General Protections provisions of the Fair Work Act.
The course also covers a definition of General Protections and Adverse Actions, employees rights under General Protections, minimising potential claims, how to respond to a claim.
---


Participants of this course will get an understanding of the anti-bullying provisions of the Fair Work Act.
The course will also cover how to prevent it, what is and isn't workplace bullying, what to do if you receive notification of a bullying application, and more.
---

This course will give participants an awareness and understanding of registered organisations under the Fair Work Act.
The course will help the participants to set up an enterprise association, who can and can't be an officer, running and managing the association, and governance training (subject to ROC approval)
---

This course will cover the obligations on the employer with regards to redundancies, lawful terminations, and ending the employment relationship.
The course will help participants to ensure that any terminations they are involved in is legal and how to reduce the risk of an application being made to the Fair Work Commission.
---

This course will help participants to manage and develop a positive relationship with unions.
Participants will get an understanding of right of entry, what entry permits are, and more.